Article from  Dr Housing Bubble
Big Wall Street investors stopped buying real estate in large quantities back in late 2014.  In many cases big investors had front row seats at banks and were able to buy in bulk and for incredibly low prices not offered to the public.  This crowding out of course has caused two major things to unfold: inventory to dwindle and a push up in prices for regular families looking to buy.  For the first time in history many things happened in the housing market including nationally falling prices but also a large interest from Wall Street in single family homes.  Now with prices near previous peak levels many of these large investors are making the full exit by offering to sell the homes to current tenants, for of course a modest increase.  Those bailouts that were geared to helping the public actually created a system that has slammed the homeownership rate lower and has now jacked home prices up once again.  Large investors are now making their final play by cashing out.
Large investors cashing out
An interesting story from Bloomberg examines this new trend:
"(Bloomberg) Melissa Suniga and her mother had been renting a three-bedroom Phoenix house for less than a year when their landlord, Blackstone Group LP's Invitation Homes, gave them the chance to buy it.

Suniga, a 40-year-old childcare worker, used her security deposit and $2,000 she'd saved from her income-tax refund, along with a county grant and a credit from Invitation Homes that together provided her with $10,600 more for her down payment and closing costs. She expects to complete her purchase of the $150,000 house this week."
The Arizona market is blistering hot yet again. The home in the example above was purchased for $83,000 in 2013 and now is being offered for sale at $150,000.  All of this of course depends on the economy not having any minor hiccups ahead:
"Now, Suniga is buying the renovated place for $150,000 with a loan from the Blackstone-owned Finance of America Mortgage LLC. A bankruptcy from more than a decade ago, along with a past sale of a home for less than what was owed on it, had raised flags with other lenders Suniga talked to, even though she's brought her credit score up to 660, she said."
Milking it from every angle.  This is why over the last decade the U.S. has become a renter nation.  If another hit comes about, we can expect investors to line up to pickup these foreclosures and repeat the cycle.  Prices and rents have surged well beyond income levels: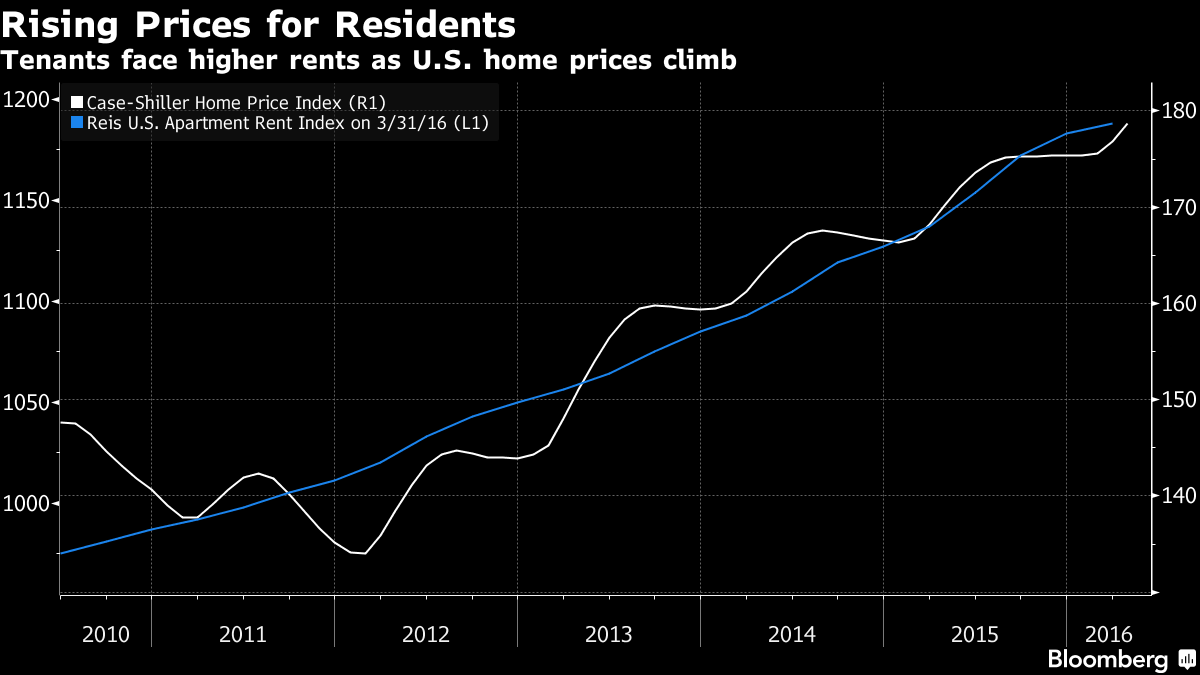 There is still maximum leverage in the market.  Even in the above example, you have someone that has a tough time getting standard financing and had a bankruptcy in the past.  And is now buying a property that has jumped in price by 80 percent since 2013.  Has the family's income gone up by 80 percent?  One argument for places like Nevada and Arizona in the past was that with prices being lower, there was just no way that foreclosures would happen in mass.  The exact opposite happened with these states being the hardest hit because incomes tend to be lower as well.  Incomes absolutely matter when you leverage yourself to the hilt.  The homeownership rate is now going to be pushed up slightly with people being squeezed into inflated properties from an artificial market.
Real estate has been surging in Phoenix:
With this trend it is no surprise that big investors are unloading properties.  It is a simple mantra: buy low and sell high.  However someone else is buying at this level and it certainly isn't Wall Street.  Why would big investors sell if it is such a great deal to be a landlord in mass?  Wouldn't they just keep buying more rentals or going for more flips?  Or do they realize prices are inflated and they don't want to push their luck?  In the end, people are stretching their budgets once again on rents and home prices.  And you wonder why people are so angry in a year where the stock market is at a record level and home prices are back near peak levels in many places (higher in San Francisco).  Blackstone stock is up 57 percent since 2011 and this will add a nice boost to their revenue.
Large investors make the full exit: Big rental investors like Blackstone are now selling properties to current renters.